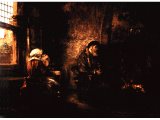 Awaiting
`Tobit and Anna Awaiting the Return of their Son` by Rembrandt. Panel, 1659. Rotterdam, Museum Boymans-van Beuningen, Collection Willem van der Vorm..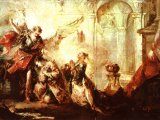 Bridal Room
After expelling the demon from the bridal room, Tobias and Sarah prayed - Francesco Guardi, 1750.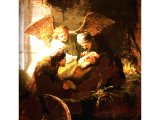 Healing
`The Healing of Tobit` by Rembrandt. After greeting his father, Tobias applied the curative gall to his eyes. Panel, 1636. Stuttgart, Staatsgalerie..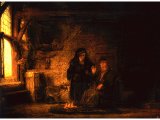 The Kid
`Tobit and Anna with the Kid` by Rembrandt. Panel, 1645. Berlin, Gem ldegalerie der Staatlichen Museen..