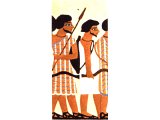 Bottle
Semitic nomad with water bottle on his shoulder. Beni Hassan, Egypt. Early 19th century BC.. `So Abraham rose early in the morning, and took bread and a skin of water, and gave it to Hagar, putting it on her shoulder ... ` (Gen.21:14).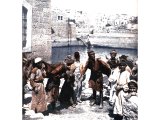 Water-carriers
Water-carriers come to David`s Pool at Hebron to fill their goat-skin `bottles`. An early photograph..


Cisterns
Summer and winter cisterns at Tantur.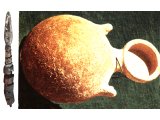 Flask
Water flask, found at Gezer and spearhead. Early Iron Age. (Clark Collection, YMCA, Jerusalem). Cf. I Sam.26:11..