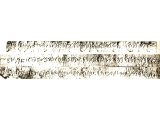 Semitic
The epitaph on the coffin of Ahiram, King of Byblus, c. 1250 B.C. Being Semitic it is vowelless and runs from right to left - a left to right version in Roman characters with vowels inserted is given below the lines.. Translation: first line: This coffin made (I)thoba`al (?) son of Ahiram, King of Byblus, for Ahiram his father to be an abiding place for ever. This inscription dates a century or two after Moses, who probably used the same ancient Semitic alphabet.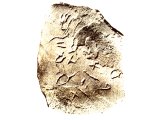 Sinaitic
Proto-Sinaitic writing. 15th century BC..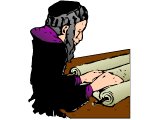 Rabbi
A traditional rabbi reading a Torah scroll.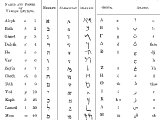 Alphabet
Comparative alphabets:. Hebrew square script - as used in the Old Testament texts. Kufic - an older form of Arabic. Samaritan - as used in the Samaritan Old Testament. Aramaic - as used in some Aramaic documents. Syriac - as used in the Syriac New Testament. Estrangelo - an older form of Syriac. Phoenician - used by the sea people called Philistines. Palmyrene. Etruscan, used in much of Italy, before the Roman empire. Greek - as used in the New Testament. Arabic - as used in the Kuran. Ethiopic, Amharic, Coptic - the liturgical languages of Egypt.