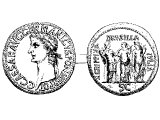 Caligula
Caligula, 37 AD, Bronze Coin of,. Left: `Caiaus CAESAR AVGustus GERMANICUS PONtifex Maximus TRibunitia POTestate`, portrait of Caligula. Right: Names and pitures of his three sisters, Agrippina, Drusilla and Julia posing as Security (leaning on a column), Concord (holing an insence bowl) and Fortune (holing a rudder), and each holding a horn of plenty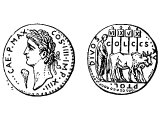 Claudius
Coin of Acra of Phoenicia, with Claudius.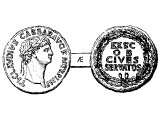 Claudius
Claudius on a brass coin.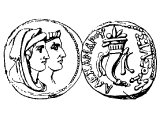 Cleopatra
Coin of Alexander Balas and Cleopatra 144 BC.