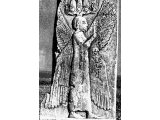 Cyrus
Cyrus II, King of Persia and later Babylon. On a bas-relief from Pasargadae as a winged figure with crown of goat`s horns and solar disks..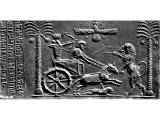 Darius
Trilingual cylinder-seal, engraved with the name of Darius. The king is hunting lions..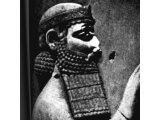 Darius
Darius the King, attended by an archer, gives thanks for victory to the national god of the Persians, Ahuramazda.. He is represented within the winged disk symbolizing the sun - for his triumph over the rebel satraps, bound before him with ropes.
FREE PICTURE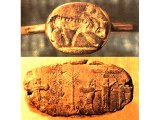 Xerxes
A gold signet ring from Persepolis (above) and the impression of the seal of Xerxes. 5th century BC (below). (Oriental Institute, Chicago)..