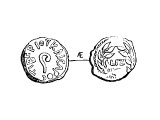 Pilate
Pontius Pilate, coin, of. Left: `Tiberius Caesar`, lituus (a crooked staff, a symbol in astrology. Right: wreath, date.. If this had been strck in Rome it would have had a portrait. The portrait is presumably omitted because of Jewish sensibilities.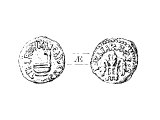 Pilate
Pontius Pilate, Copper coin of. 1st AD 29: Top Left: `of Tiberius Caesar`, a sacred vessel. Top Right: `Julius Caesar`s (mother) (Livia), three ears of wheat..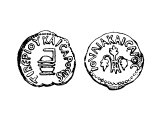 Pilate
Coin of Pontius Pilate 29 AD.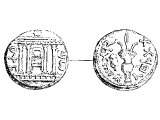 Simon Ber Cochba
Simon ber Cochba, c 130 AD, on a Shekel. Left: `Simon`, Temple. Right: `Deliverance of Jerusalem`, citron & palm branch, signs of Feast of Tabernacles.