Balista
Roman Balista, constructed according to ancient descriptions - cf 2Chron.26.15.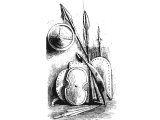 Shield
Ancient Jewish shields and spears. There are very few illustrations of Jewish soldiers, but their dress and weaponry can be inferred from their neighbours. They were influenced mainly by Egyptians during their early settlement.. During the Kings they were influenced increasingly by Assyrians and then by Persians and Greeks.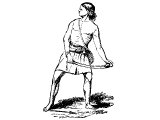 Slinger
Slinger in simple dress as worn by poor Jewish soldiers.
FREE PICTURE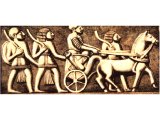 Troops
Reconstruction of Megiddo ivory showing Canaanite troops..