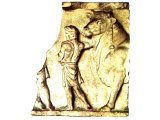 Sacrifice
Relief found at Rome, showing a slave leading a garlanded bull, ready for sacrifice. Cf. Acts 14:12-13..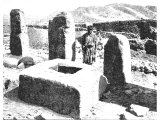 Stones
Each city of the Canaanites had one or more sacred standing stones, which represented Baal or its own protective deity. Gezer possessed an alignment of such pillars on its `high place.`. The stone cube seen in front was probably an altar, or a ritual laver. An early photograph.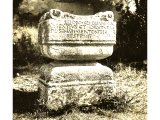 Unknown God
An altar with this inscription, `To the unknown God.` While there is as yet no archaeological find of such an altar at Athens, several inscriptions like the one quoted by the Apostle have been discovered.. The altar shown is on the Palatine Hill, Rome, where once stood palaces of the Caesars. It dates from about 100 B.C.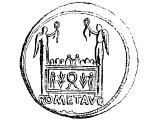 Altar
Altar of Lyons, on reverse of a brass coin of Tiberius.