Megiddo
Ruins of Megiddo.
FREE PICTURE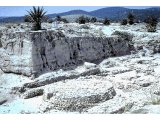 Excavations
Excavations at Megiddo.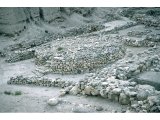 High Place
Megiddo - Canaanite altar. High Place (c2700 BC), perhaps renovated c.1900 BC.


Trough
Megiddo - Stables - Horse trough. Stables for 450 horses, plus spaces for chariots. Probably built by Ahab, not Solomon. The trough may be the kind Jesus was laid in when born..