Bacchides
Bacchides laid siege to Bethbasi & eventually the forces of Bacchides were routed. A 15th century miniature by the French artist Jean Fouquet..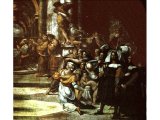 Heliodorus
This painting by the Italian Renaissance painter, Raphael (1483-1520) shows a mounted warrior striking down Heliodorus, Seleucus` chancellor, when he was sent to take the money from the treasury in the Temple..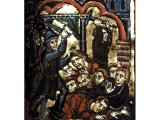 Revolt
Scenes from the revolt of the Maccabees - a miniature from a French manuscript, 13th century.