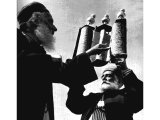 Law
Samaritan High Priest reading from the Law.


Law
Carrying the Law, the picture in the Johannesburg Gallery by the English painter Sir William Rothenstein, illustrates the scroll inscribed with the Pentateuch, being brought from the `ark`, or receptacle in which it is kept.. It is brought to the reading desk in the synagogue. The scroll is wrapped in a `mantle of the Law.`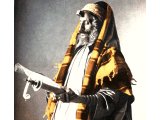 Law
A `scroll of the Law`. Written on parchment and fastened at either end to rollers. This Jew is dressed for prayer and wears on his forehead a phylactery, or small leather box in which texts are enclosed.. They remind the wearer to fulfil the law with head as well as heart. An early photograph.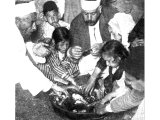 Passover
Members of a Samaritan family in Palestine are gathered for their Passover feast round the dish of lamb seasoned with bitter herbs. An early photograph..