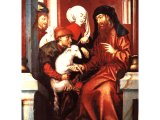 Priest
A painting by the 16th century Dutch artist, Jan de Vries depicts Joachim, a priest, being presented with a lamb to be used in Temple sacrifices..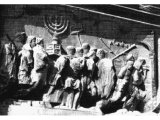 Titus` Arch
Titus` Arch erected in Rome in honour of the capture of Jerusalem in A.D. 70,. Vespasian left the completion of Judaea`s conquest to his son Titus. This sculptured panel shows the victors carrying off the treasures of the Temple,. including the golden table of the shewbread, two of the silver trumpets, and the great seven-branched candlestick of pure gold.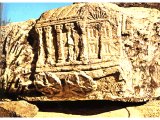 Ark
Relief representation of the Ark of the Covenant on a frieze at the Capernaum synagogue. Later 2nd century AD..


Lampstand
Model of the 7-branched lampstand or Menorah, from a model of Moses` Tabernacle in the Wilderness. Model by Andrew Gillesae, photographed by Paul McCabe.