Seraphim
`Then flew one of the seraphims unto me, having a live coal in his hand` Is.6.6.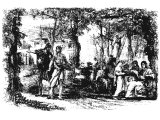 Vine
Eating of the fruit of the vine - Is.65.21.


Weeping
`On the tops of their houses, and in their streets, every one shall howl, weeping abundantly` - Is.15.3.


Wolf
`The wolf and the lamb shall feed together, and the lion shall eat straw like the bullock` - Is.65.25.