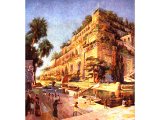 Gardens
Reconstruction of the Hanging Gardens of Babylon, one of the Seven Wonders of the ancient world were within the palace area. Nebuchadnezzar may have been walking here when he admired `the house of the kingdom` (Daniel iv, 30, 31)..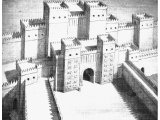 Ishtar Gate
The Ishtar Gate on Babylon`s Processional Way is decorated with fine examples of glyptic art..
FREE PICTURE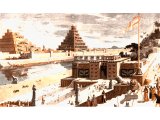 Palace
Under Nebuchadnezzar II, Babylon reached the zenith of it glory. Pulling down the royal abode of his father, Nabopolassar, he erected a new one on its site and then greatly enlarged it.. His palace-area shown in this reconstruction was on both sides of the Euphrates, which was spanned by a fine bridge for traffic. The famous building of the Hanging Gardens is in the background on the right. The lofty temple of Marduk, with the staged tower of the E-temenanki, is seen here on the left.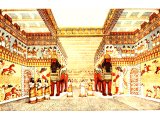 Khorsabad
Pomp and Circumstance in the Palace of an Assyrian King.