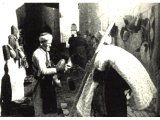 Bed
`Take up your Bed`. This Arab peasant pauses near the Damascus Gate to ask the price of a pair of shoes. He has bought a thin mattress stuffed with wool or cotton.. These, laid on the floor, were the beds of many native Palestinians. An early photograph.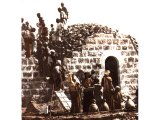 Building
When Nehemiah was building Jerusalem everyone assisted. The construction of an Arab village home is a labour for the community.. Women, passing by in the evening to the well, set down the weighty water-pots and helped by carrying up the squared stone blocks to the men on the wall. An early photograph.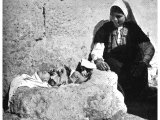 Cave
A baby laid in a rock manger. Primitive houses were still found in Bethlehem in the last century.. They were built against the side of a hill with a stable. Mangers for donkeys and other domestic animals, driven indoors by bad weather, are scooped in a conveniently placed ledge of rock. An early photograph.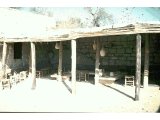 Chamber
Roman style guest chamber at Tantur.