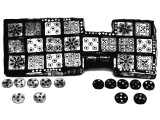 Board
Gaming-board from the royal graves at Ur of the Chaldees. Squares of shell are inlaid with lapis-lazuli and red limestone and set in bitumen upon wood..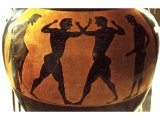 Boxers
Boxers depicted on Greek vase. 5th century BC..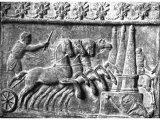 Chariot
The chariot race at the circus. Vehicles were lightly constructed of wood and bronze - from two to ten horses were driven, four being a usual team. The driver was wound about by protective leather thongs.. He carried a knife to cut himself loose from the reins in case of accident. The three cone-shaped pillars on a circular base seen on the right of the relief formed the meta, or turning post, placed at either end of the spina, or barrier down the middle of the course.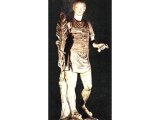 Palm
Statue of a victorious charioteer holding a palm branch. Cf. Rev. 7:9..