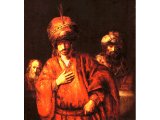 Haman
`Haman Sets Forth to Honour Mordecai` by Rembrandt. Canvas, ca. 1665. Leningrad, Hermitage..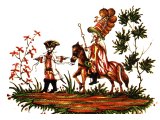 Mordecai
Mordecai`s triumph and Haman`s fall - a French plate used at Purim,18th century.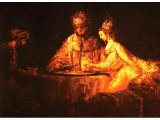 Haman
`Haman and Ahasuerus at Banquet with Esther` by Rembrandt. Canvas, 1660. Moscow, Pushkin Museum..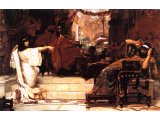 Esther
Esther denouncing Haman, by Ernest Normand - Sunderland Art Galleries.