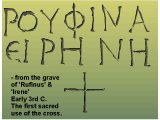 Grafiti
The grave of Rufinas and Irene, early 3rd century. The first sacred use of the Cross.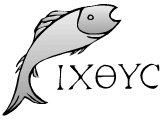 Ichthys
Early Christian symbol of a fish. Greek for fish is an acrostic for Jesus, Christ, God, Son, Saviour.
FREE PICTURE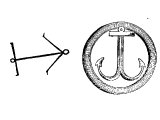 Symbol
Anchors from Roman catacombs. Some anchors had one fluke, some two (as shown here) and some four (as alluded to in Acts 27.29). Anchors were considered an emblem of hope, as in Heb.6.19, and were often carved on Christian tombs..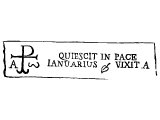 Symbol
Christian monogram from the Roman catacombs: Chi Rho with Alpha and Omega as in 54a, then the normal sepulchral inscription: `Rest in Peace, Januarius. Lived ....