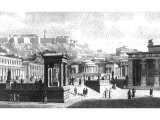 Athens
Athens. This reconstruction drawing is of the civic centre. Dominating the scene is the Acropolis, showing the columned gate-house, the statue of Athene and the roof of the Parthenon.. In the background is the small mount known as the Areopagus. In the foreground is the Agora, or market-place, with the Portico of Attalus on the left. Behind it is the Senate House. In front is the shrine of Eirene and the child Plutos. The rostrum, whence orations were delivered, is on the steps.


Parthenon
The Parthenon, Shining Diadem of Athens.
FREE PICTURE


Parthenon
Athens - the Parthenon on the Acropolis.


Parthenon
The ruined columns of the Parthenon.