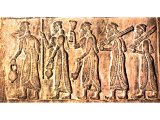 Shalmanesser Iii
Relief from `Black Obelisk` of Shalmaneser III of Assyria showing a deputation sent by Jehu, king of Israel.. The bearded Israelites wear long tunics covered by fringed cloaks - their heads are covered by the characteristic Syrian head-dress. Their feet protected by the pointed shoes of the mountain peoples. They are carrying various objects, including stamped bars of metal,vessels, and staves. 9th century BC. (British Museum).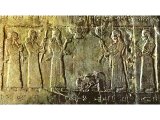 Shalmanesser Iii
Calah obelisk showing Jehu doing homage to Shalmaneser III. 9th century BC..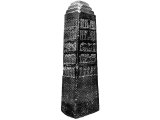 Shalmaneser ii
Black obelisk of Shalmaneser II commemorating his thirty-one campaigns and the tributes of various nations, among them that of Jehu, king of Israel..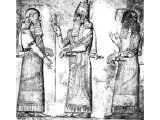 Tartan
Sargon the king of Assyria is referred to in Isaiah xx,1. His Tartan, or commander-in-chief, who captured Ashdod faces the monarch and another high official..