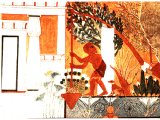 Irrigation
Egyptian painting from tomb of Ipui, Thebes, 13th century BC, showing slave working an irrigation machine..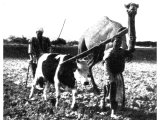 Ploughing
Such a ploughing team as this may have prompted the phrasing of Paul`s admonition `unequally yoked together` (II. Corinthians vi, 14). The difference in height imposes an unfair strain on the smaller animal. An early photograph..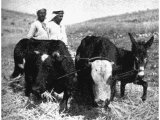 Muzzle
This early photo illustrates instructions taken from Deuteronomy xxv:4, I. Corinthians ix:9, I. Timothy v:18 `Do not muzzle the ox`..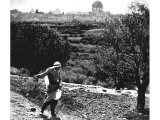 Sows
A man sows seed on the higher slopes of the Mount of Olives, not far from the village of Bethany. An early photograph..